Homeowner Association Meetings Simplified

BlueSky is a web-based service for creating, coordinating and conducting HOA meetings online.
Create Agendas and Minutes
Whether your HOA meets once a month or a few times a year BlueSky can save you hours of time and frustration when it comes to creating your agendas and minutes. Our editor makes it easy to format your agenda items and add attachments, and reordering items is simple with our drag and drop interface.
Record Votes and Attendance
BlueSky makes it simple for you to keep track of each of your board's decisions on an item by item basis. Indicating whether a participant voted in favor of, against or abstained is done with the click of a button and attendance can be recorded as well.
Keep Homeowners Engaged and Informed
Keeping your homeowners and residents engaged is easily done with BlueSky. With our "Email Lists" feature you can quickly send out finalized minutes and agendas to each constituent and print PDF copies for your records. Alternatively, by making your meeting group public your constituents would be able to visit your landing page and see a list of upcoming meetings, access previous meeting data and search with a few simple clicks.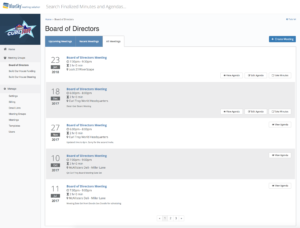 Features designed for your specific needs
Simple Meeting Features
Unlimited number of agendas for a meeting group
Unlimited number of users
Record attendance
Take minutes
Generate PDF versions of agendas and minutes
Include file attachments
Advanced Meeting Features
Simple features plus:
Create and distribute meeting agendas and minutes
Take minutes and record votes and actions
Ability to require that agendas and minutes be approved
Ability to set agendas and minutes as public or private
Ability to mark attachments as public or private