It's been a while since you last heard from us and so I thought I would take a moment to update you on what is going on behind the scenes at BlueSky.
The Rails Upgrade
As we discussed in a previous article, we are currently hard at work doing an upgrade on the framework that BlueSky runs atop of (Ruby on Rails). Bringing BlueSky up to the latest version of Rails will bolster a variety of security improvements, allow us to scale BlueSky more quickly in the future and provide a platform that facilities the development of new features and enhancements.
A New Look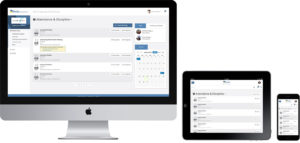 Since working on the Rails upgrade involves us touching so many aspects of the underlying codebase, we thought the rails upgrade would be an excellent opportunity to redesign the look and feel of the application
As you can see in the screenshot above, the redesign brings a new look to the BlueSky application. As we went through the design process, we kept three goals in mind.
We wanted to retain the same feeling that you have when using the current application so that our users that have been using BlueSky for years can quickly adapt to the new layout.
We wanted to aim for a 100% mobile and tablet friendly design. We believe that anything that you can do on the desktop version you should be able to do on the tablet and mobile version as well.
We wanted to add some personalization options to the application to allow for customers to better brand BlueSky to fit their organization.
With all of these changes going on with BlueSky, we didn't want to lose track of some of the features that our clients have been asking for over at our ideas portal. Because of this, part of this big rollout is to include a few new features that you have requested.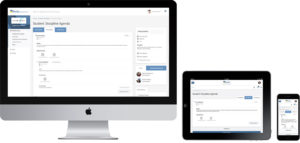 Upcoming Features
There are a few new features and some enhancements that we want to rollout as a part of this version of BlueSky.
Updated WYSIWYG Editor
The currently WYSIWYG (What You See is What You Get) editor that allows you to add formatting to your agendas is very dated. We plan on replacing this with a new version of the editor that will allow you more granular control over the formatting of your agenda and minutes.
Archiving of Meeting Groups
We are adding a feature that allows you to archive a meeting group. By archiving a meeting group, you will still be able to access any previous meeting agendas and minutes, but you will not be able to create any new meetings. You will not be charged for archived meeting groups.
Meeting Templates and Standing Items
One of the areas of BlueSky that we want to put some focus on is standing items and how meetings themselves get created. The idea behind a standing item is simple: it is an item that carries over from meeting to meeting. The idea behind a meeting group is that it is a group of people that meet on a regular basis.
With the way that the application currently works, it assumes that every time that meeting group meets, the meetings they have will be similar in nature. In practice, this is not always the case.
This is why we plan on replacing the standing item functionality with meeting templates. The way they work is simple. Each meeting group can have several meeting templates. When the organizer creates the meeting, they will have an option to start a meeting from a template or to start with a blank agenda. In addition, you will be able to set a meeting template as default in the meeting group settings page, thus making the meeting creation process that much easier.
More Features to Come
Most importantly this initial rebuild and update provide the framework for us to expand BlueSky and continue to add features and changes moving forward. Our primary goal in these updates was to provide a stable framework for continued growth of the BlueSky application.
Timeline
Due to the scope of the changes that we are making to the application, it is a challenge for us to nail down the exact timeline as to when this iteration will be released. We are aiming to release this update sometime in the third or fourth quarter of this year. We are working as hard as possible to get this important release to you as quickly as possible, however with the complexity of the changes we have to ensure that we have adequately tested and designed each piece of functionality considering the bigger picture. We appreciate your patience while we work through these changes.
Most importantly we want to remind you that when this release is available, it will be completely free for all current BlueSky customers. You will be automatically updated to the new version and features of BlueSky Meeting.
We are looking for beta testers to help us iron out any bugs in the new design. If you are interested in beta testing this version of BlueSky, contact us at info@blueskymeeting.com.
Is BlueSky Right for Your Organization?