With a lot of boards and committees, the meeting format of the agenda is similar meeting to meeting. When we were going through the redesign process for BlueSky, we wanted to ensure that we had a system in place that made the agenda creation process even more straightforward. One of the most significant changes we made during the redesign was the addition of our template system.
Leveraging the Template System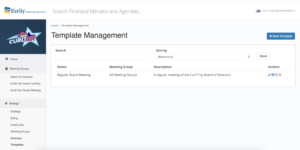 One of the most common ways we see the template system used is to create a template that contains the items that appear on every agenda. Doing so prevents you from having to recreate the same content for each meeting while allowing you to add and modify the agenda items that are unique.
For most, having a single template for each meeting group is sufficient, but that doesn't mean that you are limited to only one. All of our accounts have an unlimited number of templates so you can create one or twenty.
To further illustrate this point let's look at an example. If you have a "Staff Meeting" meeting group and say you have weekly staff meetings and then a quarterly update meeting having two templates (one for staff meetings and one for quarterly meetings) is a great way to save time.
Duplicating Templates
If you want to create a new template based off of another template, you have that option. With the click of a button, you can duplicate a template and use that as a starting point. Additionally, we have a feature in development right now that allows you to create a template from a meeting so you can expect that to be coming out shortly.
Template Permissions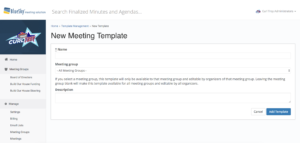 By default, templates are assigned to a particular meeting group, and organizers of a meeting group can edit templates that belong to them. However, you can choose to make a template global, meaning it will be available to all meeting groups.
Creating a Meeting From a Template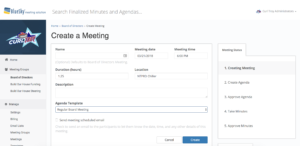 Finally, creating a meeting from a template is as simple as selecting that template during the meeting creation process. All attachments (and attachments data), participants and items will be imported saving you lots of time and hassle.
So that is an overview of our template system and what it can offer to your organization. If you have any questions, don't hesitate to reach out to us and ask!
Want to see how BlueSky can simplify your meetings?